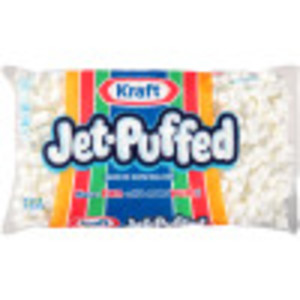 JET-PUFFED Mini Marshmallows, 16 oz. Bag (Pack of 12)
JET-PUFFED marshmallows are a well-known brand that can be used dynamically across your dessert menu. This sweet ingredient can be used to top dishes, mix into creations, or melt into a recipe.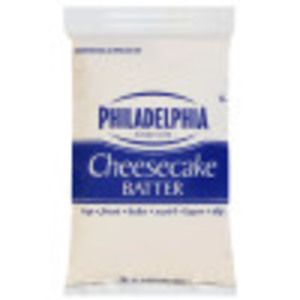 PHILADELPHIA Cheesecake Batter, 3 lb. Pouch (Pack of 4)
Philadelphia Cheesecake Batter Pouch. Bring the perfect cheesecake flavor to your signature sweets. Philadelphia Cheesecake Batter is available in a convenient pouch. The Cheesecake Batter is most commonly used for coffee brownie cups with Espresso-Cheesecake frosting, creamy Irish Coffee, Cheesecake Banana Brulee, Flourless Cheesecake-Filled Chocolate Cake, Creamy Cheesecake-Filled Crepes, Fried Cheesecake and Ice Cream, Cheesecake Lollipops, Cheesecake Brownie Pops, Molten Chocolate Cheesecake, and more! Discover endless possibilities with Philadelphia Cream Cheese! Learn more about our products and get great cream cheese recipe ideas. It all started with local dairy farmers near Beaver Dam, WI and Lowville, NY who take pride in their products. They supply Philly with fresh milk, which we combine with fresh wholesome cream. The entire process from farm to creamery takes just six days. But we don't stop at farm fresh milk and real cream. We also use carefully selected fresh fruit and vegetables, and never add artificial preservatives, dyes or flavors in any of our cream cheese spreads. So in the end, everything just seems a little bit better with the creamy taste of Philadelphia Cream Cheese.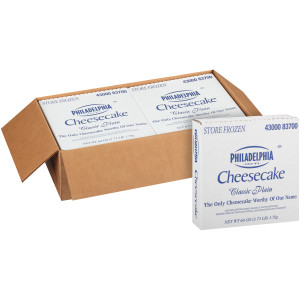 PHILADELPHIA Plain Cheesecake, 60 oz. (Pack of 4)
Philadelphia Plain Cheesecake, 60 oz., Pack of 4. Classic, dry baked cheesecake with a homemade taste and appearance consumers prefer. Special touches, such as hand-greased baking pans and the use of only real butter ensure premium quality cheesecakes. Precut with paper dividers for quick and easy handling. Each cheesecake is individually wrapped for maximum freshness. Philadelphia Cream Cheese is Americas favorite brand of Cream Cheese.